Reproduced from
Gramophone, August 1996
<![if !supportEmptyParas]> <![endif]>
<![if !supportEmptyParas]> <![endif]>
<![if !vml]>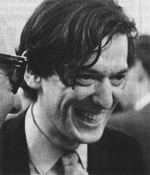 <![endif]>
<![if !supportEmptyParas]> <![endif]>
Michael A Gerzon
<![if !supportEmptyParas]> <![endif]>
The death on May 6th of Michael Gerzon, following an asthma attack, has robbed the audio world of one of its most prolific polymaths. News of his death reached many hundreds of his colleagues and friends at the 100th Convention of the Audio Engineering Society being held in Copenhagen (11-14th May), where he was scheduled to present three papers. It was the cause of deep sadness and brought forth a number of tributes at the annual Awards Ceremony and the lecture sessions. Michael Gerzon was made a Fellow of the AES in 1978 and awarded the rare AES Gold Medal in 1991.
In more than 90 papers reproduced in the Journal of the AES and elsewhere he broke new ground in such varied aspects of digital audio as linear and non-linear signal processing and systems theory, digital reverberation, room equalization, data compression, spectral analysis, noise-shaping and dither technology.
Yet he was perhaps even better known as one of the inventors of the Ambisonics surround sound technology and, with Dr Peter Craven, the four-capsule Soundfield microphone which is uniquely able to record and reproduce the full three-dimensional sound field. More recently he made a strong case for three loudspeaker stereo and important refinements to surround sound theory and practice.
Michael Gerzon was born in Birmingham in 1945 and gained an MA in Mathematics at Oxford University in 1967, to be followed by postgraduate studies in axiomatic quantum theory. His many interests included music, writing poetry, sensory perception and information theory. From his student days he was fascinated by sound recording and made many live recordings, some of which were released on LP and CD.
Much of his research involved advanced mathematics but in conversation and during his many witty lectures he could reduce the most complex abstractions to readily understandable language, diagrams and models – using wire hoops, for example, to confound the proponents of the early quadraphonic sound systems. Future AES Conventions, and the audio world in general, will miss this most worthy inventor and persuasive debater.
John Borwick
<![if !supportEmptyParas]> <![endif]>
<![if !supportEmptyParas]> <![endif]>
|Back|